We're happy to introduce our new ambassador Merle Liivant an eco-athlete, ocean ambassador, a 5x Guinnes World Record holder, a national competitive swimmer for Estonia, a mermaid and many more! Her talents know no bounds!
For Merle, cleaning up while doing watersports is second nature. She collects trash from the ocean while swimming and holds the record as the furthest swimmer with a monofin. Merle apart has a passion for making a positive impact on the environment. She's on a mission to inspire people worldwide to do at least 1% better when it comes to tackling trash  and combating microplastic pollution.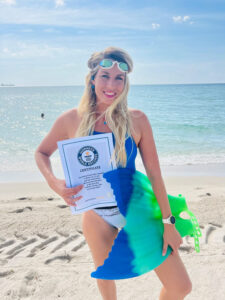 As a mermaid, she draws the world's attention to the pressing issue of microplastic pollution in our oceans, seas, rivers, and lakes. Her marathon swims not only test her endurance but also her dedication to cleaning up our planet's waters.
In 2014, Merle founded her own 'Mermaid' school, where she not only teaches children the art of swimming but also introduces them to the magic of swimming with a monofin.
We are incredibly proud to have Merle Liivand join us at Wavemakers United as a Water Ambassador, helping us in our mission to create a better world through connecting water with sports!